We recently bought a little kettle grill and I think we've already gotten our money's worth. We've grilled corn and steak, but there's nothing I love more than throwing burgers on the grill. It brings back memories of my dad grilling burgers for us on his Weber, at the height of summer.
I used to buy gluten-free buns for my burgers, but I've come to appreciate burgers wrapped in lettuce, as long as they have plenty of delicious toppings.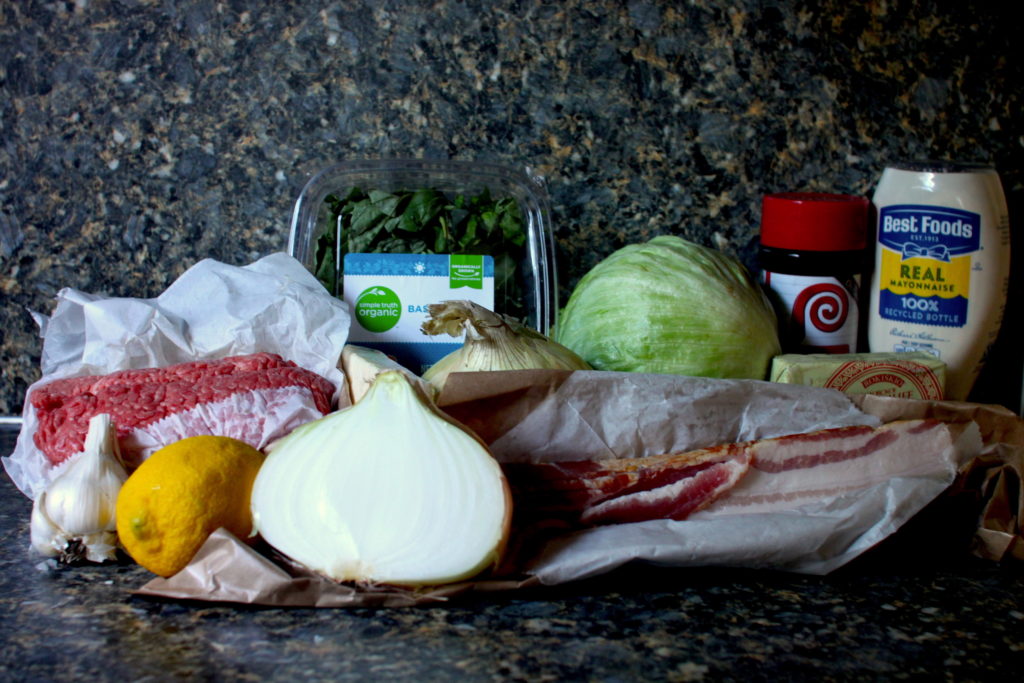 This bacon cheeseburger is inspired by my boyfriend's favorite burger from local joint PDX Sliders.
The stars are the cheese and onions, which are a match made in heaven. The aged cheddar melts beautifully on the burger, and the sweetness of the caramelized onions balances the tang of the cheese and the richness of the bacon and beef.
The crispy bacon adds a satisfying crunch – and let's face it, why just have a burger when you could have a bacon cheeseburger?
But the aioli is really the crowning glory. I do a bit of a cheater's aioli, using ready-made mayo. I figure, if you're caramelizing onions and cooking bacon and grilling burgers, you want simple. But it's still delicious, and the fresh basil adds some necessary bite.
If you're craving more freshness to round out this bacon cheeseburger, you could add a thick slice of tomato.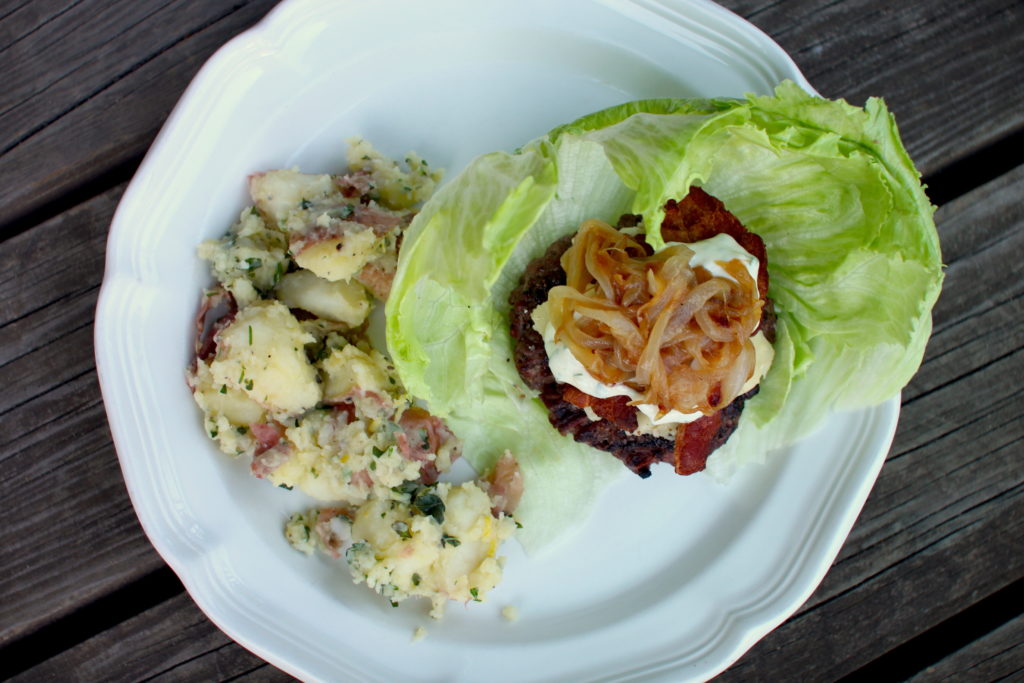 Bacon cheeseburger with caramelized onions and basil aioli
This bacon cheeseburger has everything you want for a summer cookout: aged cheddar cheese, sweet onions, bacon and basil aioli, in a healthy lettuce wrap.
Ingredients
For the aioli (makes ½ cup)
⅓

cup

mayonnaise

½

teaspoon

garlic powder

1

tablespoon

fresh basil, diced

1

teaspoon

lemon juice

1

teaspoon

dijon mustard

Salt to taste
For the onions
2

tablespoons

butter, more if needed

2

cups

sweet onions, sliced thin
For the burger (makes four burgers)
1

pound

ground chuck, 80 percent lean, 20 percent fat

1

teaspoon

salt (seasoned, like Lawry's, or plain)

1

teaspoon

pepper

4

thick slices of bacon

4

ounces

aged cheddar cheese, sliced into 4 slices

8

leaves

iceberg lettuce
Instructions
Combine all aioli ingredients in medium bowl and mix well. Set aside.

Melt butter in large saute pan over medium-low. Add onions and stir occasionally (adding more butter if onions start to brown too deeply) until onions are a nice golden-brown, about 25 minutes.

Meanwhile, cook bacon in saute pan or cast-iron pan over medium-high for 2-3 minutes per side or until bacon has reached desired crispiness.

Separate ground chuck into four patties of equal size, about 5 inches in diameter and 1 inch tall. Try not to handle the burgers too much, as this can make them tough. Season one side of patties with half the salt and pepper.

Prepare your grill. If using a charcoal grill, bank coals to one side for high heat. On a gas grill, cook the burgers over high heat. Alternatively, heat 1 tablespoon olive oil or leftover bacon grease in skillet over medium-high.

Place your burgers on the grill or pan, seasoned side down. Season the other side of the burgers with remaining salt and pepper.

If cooking on grill, cook burgers 2-4 minutes per side, depending on desired doneness. On a stovetop, cook 3-5 minutes minutes per side, adjusting as needed. After flipping, top patties with cheese for maximum meltiness. Once cooked, place burgers on plate to cool.

Once cooled, place each patty on a lettuce leaf. Each patty will likely need about two lettuce leaves to hold it together.

Place bacon and onions on patties and top with generous dollop of aioli. Wrap lettuce around burger and serve!
This bacon cheeseburger would pair perfectly with my dad's potato salad, or my balsamic peach salad. Serve it with a fun summer cocktail (I recently developed a twist on a Tom Collins) or your favorite beer or wine. Enjoy!