For most of my life, Caesar salad was thoroughly a background salad. It's what I'd order at a restaurant if nothing else looked good, a reliable (if not very exciting) backup choice.
That changed the first time I saw Caesar salad dressing made from scratch. Around the time I was in high school, my dad and I visited family in Seattle, and my aunt whipped up a Caesar salad dressing for us.
I watched with horror and awe as she dropped various items into the food processor, each one weirder than the last. Olive oil, garlic, egg yolks, lemon juice, whole anchovies?? I couldn't. It sounded disgusting.
I had a vague understanding that this was the right way to make Caesar dressing, but only when I tasted it did I really understand. All of those disparate ingredients came together to form something wholly delicious.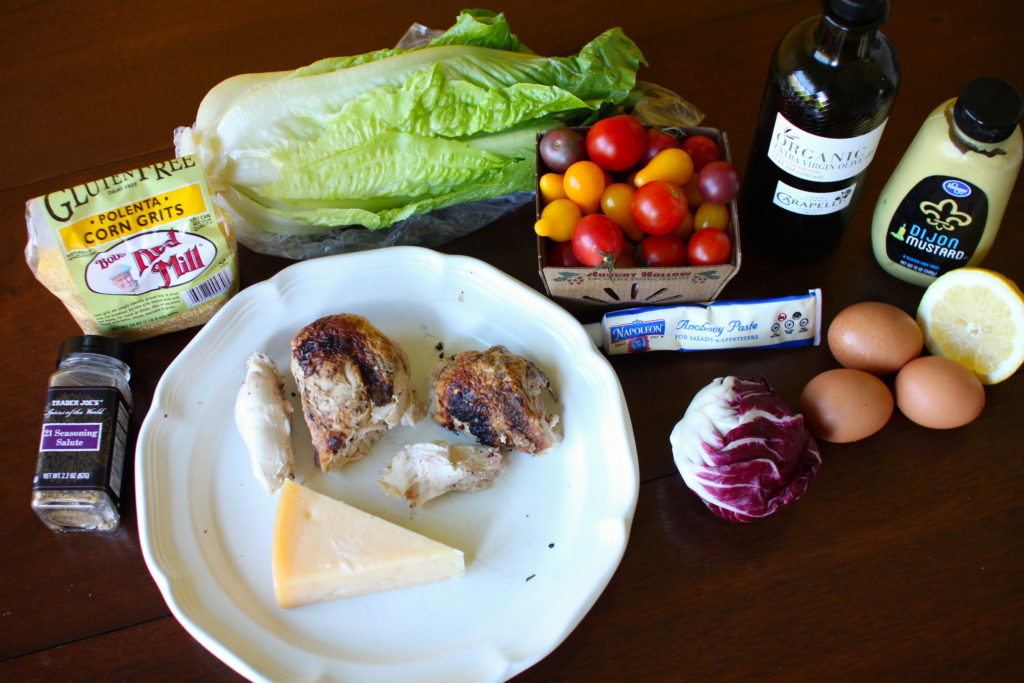 My belief was confirmed the first time I made Caesar dressing, thanks to this dreamy recipe from A Beautiful Plate. It came out perfectly, and it's my favorite dressing recipe to this day. Now, Caesar salad is a showcase meal, not a backup.
But making dressing from scratch, especially Caesar salad dressing, is a lot of work. So if you're short on time, grab that pre-made dressing. No shame! Also, this recipe is the perfect vehicle for store-bought rotisserie chicken.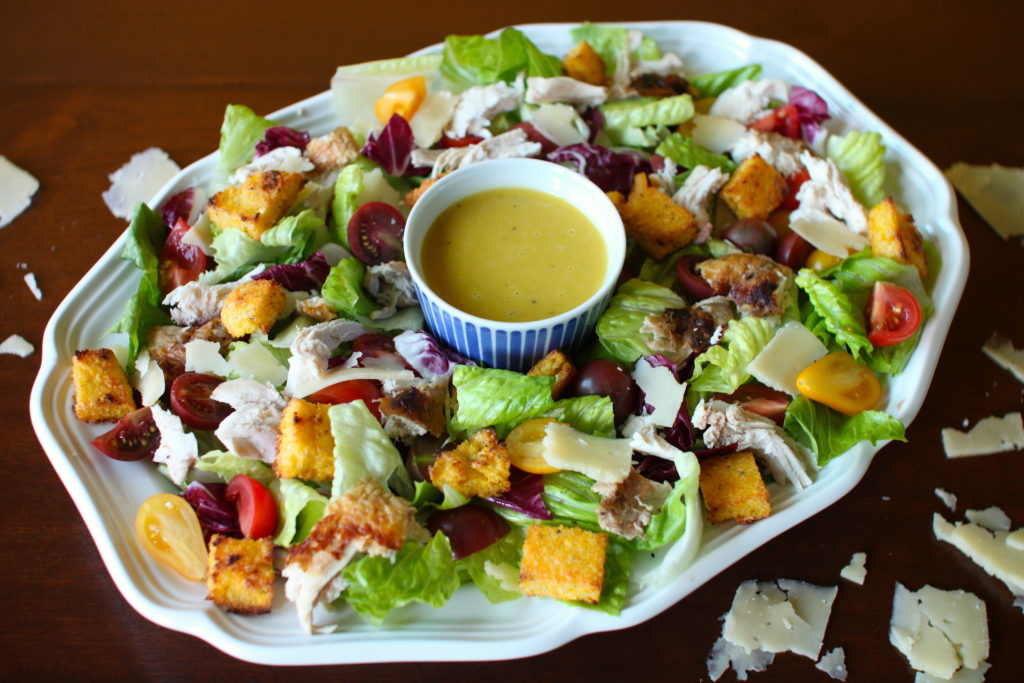 I wanted to keep this recipe fairly simple, but I am addicted to tomatoes in both taste and color. I added radicchio for a bit of bitterness and complexity.
I'm a sucker for a good crunchy salad, so the classic gluten-full croutons presented a bit of a problem. I typically rely on nuts to provide that satisfying crunch in salads, but I wanted something more classic for this Caesar salad. I landed on polenta croutons. They took some time, but added just the right pop of texture and flavor. Enjoy!
Chicken Caesar Salad with Polenta Croutons
Herby garlic polenta croutons add a gluten-free crunch to this classic salad.
Ingredients
For the croutons
1 ½

cups

water

½

teaspoon

salt

½

cup

cornmeal or polenta

2

tablespoons

Parmesan, grated

½

teaspoon

Italian seasoning, or similar spice mix
For the dressing
3

large egg yolks

2

cloves

garlic

2

anchovy fillets or 1 teaspoon anchovy paste

2

teaspoons

Dijon mustard

2

tablespoons

fresh-squeezed lemon juice

⅓

cup

olive oil

Salt and pepper to taste
For the salad
1

pound

cooked chicken breast, chopped or torn into bite-sized pieces

1

head romaine lettuce, washed and roughly chopped

1

cup

radicchio, roughly chopped (optional)

1 ½

cups

cherry tomatoes, halved

¾

cup

Parmesan, shaved or grated
Instructions
Bring water and salt to a boil over medium-high. Slowly stir in polenta and reduce heat to medium. Continue to cook, stirring constantly, until the polenta is very thick (about 10 minutes). Add in herbs and cheese. Spray a glass dish or rimmed baking sheet with cooking oil and spread polenta ½ an inch thick. Let cool in fridge for at least 30 minutes or freezer for 15 minutes.

Meanwhile, make dressing: Mince garlic and anchovies, blending into a paste with the side of your knife. (If using anchovy paste, mix garlic into paste.) Whisk egg yolks in medium bowl. Add garlic-anchovy paste, mustard and lemon juice and whisk until incorporated. Pour olive oil into bowl in thin stream while whisking continuously, until the oil is gone and the dressing is emulsified. Add salt and pepper to taste and set aside.

Preheat oven to 450ºF. Once polenta has cooled, cut it into ½-inch squares and place on oiled baking sheet, making sure croutons are spread out. Bake 25-30 minutes, turning croutons halfway through to ensure they brown evenly. Set aside to cool.

Assemble chicken, lettuce and tomatoes in large salad bowl or platter. Top with Parmesan and croutons and serve with dressing.

Reserve leftover croutons and dressing separately for later servings. Store both in fridge.
Looking for more unique salad recipes? Try my Avocado Grapefruit Salad with chile and pepitas or my Bacon Brussels Salad.