As much as I love deviled eggs, I think they're becoming a thing of the past. The scooping and mixing is too much work, and the flavor gets old after a couple bites. I took a cue from Bon Appétit and made soft-boiled eggs instead. No mixing required, and the result is a bunch of beautiful little blank canvases topping-ready and party-perfect.
Because these are so much more than soft-boiled eggs, I have dubbed them Party Eggs. Your guests will be wowed, especially if you can get your hands on a deviled egg platter.
Soft-boiling the eggs (rather than hard-boiling) is key, because the jammy yolks serve as a little sauce for whatever you choose to put on top. Getting that perfect jammy yolk requires precision and attention to detail. For instance, eggs coming right out of the fridge need about 30 more seconds than eggs that have been sitting out (see my recipe notes).
Toppings
Once your eggs are done, scrounge around your fridge for toppings. This is a perfect time to use that leftover Parmesan or the green onions that would otherwise go bad. It's also a great opportunity to go a little crazy with the condiments. Here's what I used to top my party eggs:
Sautéed asparagus + prosciutto + pepper
Radishes + butter + sea salt
Arugula + Parmesan + lemon zest
Green onions + equal parts mayonnaise and gochujang (spicy miso sauce)
Smoked salmon + capers + sour cream
Shallots + mustard + mayonnaise
A few other ideas for toppings:
Meat/Fish: anchovies, bacon, caviar, smoked trout, crab
Herbs: chives, basil, dill, tarragon, parsley, cilantro
Hot sauce: Frank's Red Hot, Tabasco, sriracha
Spices: paprika, cayenne, curry, garlic
Peppers: chipotle, jalapeño, habeñero
Fruits/Vegetables: Avocado, bell pepper, tomatoes, cucumber
Extras
I also whipped together a dipping sauce similar to deviled egg filling: mayonnaise and mustard, plus a splash of apple cider vinegar. That, plus leftover toppings made a nice accompaniment to the eggs – you can never have too many toppings or sauces!
This dish would be great as part of a big brunch, and it's perfect as an appetizer for a dinner party. For brunch, serve it with mimosas and a toast bar. As an appetizer, offer it with chilled rosé and an antipasto platter.
Looking for something to serve at your dinner party? Try my Pacific Northwest Salad Niçoise, or my Herby Chicken Thighs.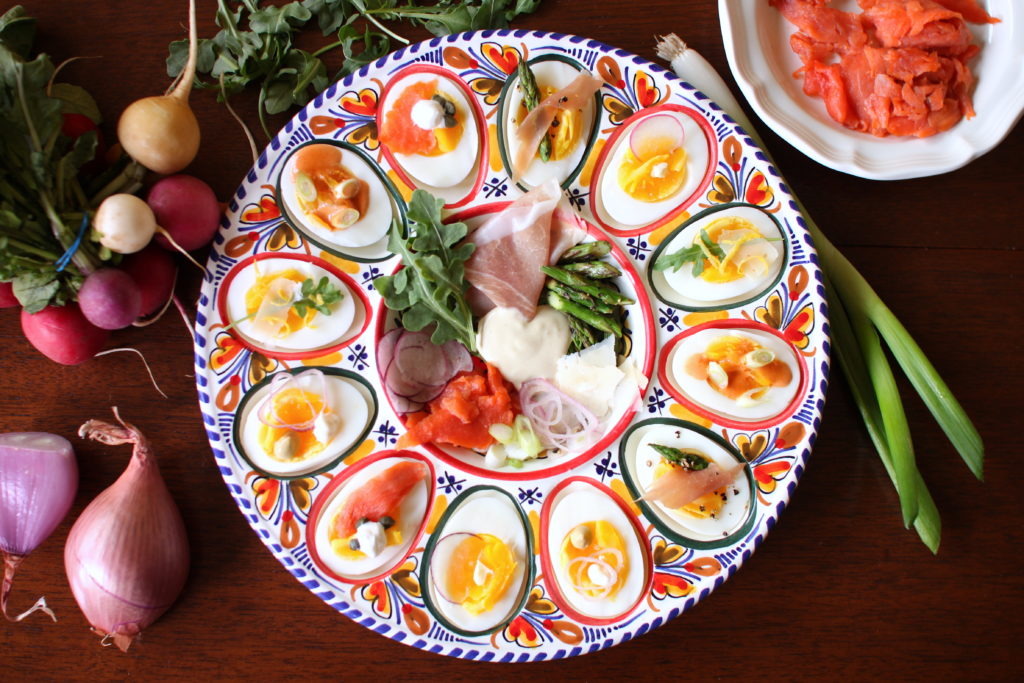 Party Eggs
A colorful crowd-pleaser and a delicious vehicle for leftover herbs and condiments.
Ingredients
6

eggs

Desired toppings (see above)

2

tablespoons

dijon mustard

3

tablespoons

mayonnaise

1/2

teaspoon

apple cider vinegar

Salt and pepper to taste
Instructions
Fill a medium saucepan two-thirds full with water and bring to a boil. Carefully add eggs with slotted spoon.

The cold eggs will have reduced the water temperature. Once water is starting to boil again, set a timer for 6 and a half minutes.*

Fill a large bowl with ice water and place beside stove.

When eggs are done, immediately scoop them out with a slotted spoon and carefully place them in the ice water. Let them cool for at least 3 minutes.

Gently tap bottom of eggs against your sink or counter to break them, and peel under cold running water.

Cut eggs in half lengthwise, wiping knife with a paper towel between eggs.

Place on platter and add toppings to your heart's desire.

For dipping sauce, whisk remaining ingredients together along with salt and pepper to taste.

Notes
Cook eggs 6 and a half minutes if taking eggs straight from the fridge. If eggs have been sitting out at room temperature for more than a couple of minutes, cook them for just 6 minutes.
Feel free to double the recipe – cook the eggs for the same amount of time, but take care that you use enough water to cover the eggs by a couple of inches.