My go-to breakfast is eggs, but a little variety is absolutely necessary. On days I'm craving something sweeter, I go for a bowl of spiced Greek yogurt with all the fixin's. I top it with nuts and dried berries and drizzle it with honey. It satisfies my sweet tooth and keeps me full all morning (or most of the morning – as long as the eggs do, anyway).
If assembling a bunch of nuts, fruit and spices sounds too time-consuming, I have an ultra-streamlined method: Start with honey-flavored Greek yogurt, then pour one of those pre-packaged trail mix snack packs on top. Finish it with a healthy sprinkle of pumpkin pie spice, and you just made breakfast in 60 seconds.
What I love about Greek yogurt is that it provides a protein-packed blank canvas for just about anything. I have my favorites (see picture below), but the topping possibilities are endless:
Pepitas and walnuts with bits of dried apricots
Pecans, cranberries, pistachios and honey
Coconut flakes, macadamia nuts and dried mango
Strawberries and dark chocolate shavings
Granola and peaches
Bananas, walnuts and maple syrup
Blueberries, pecans and lemon curd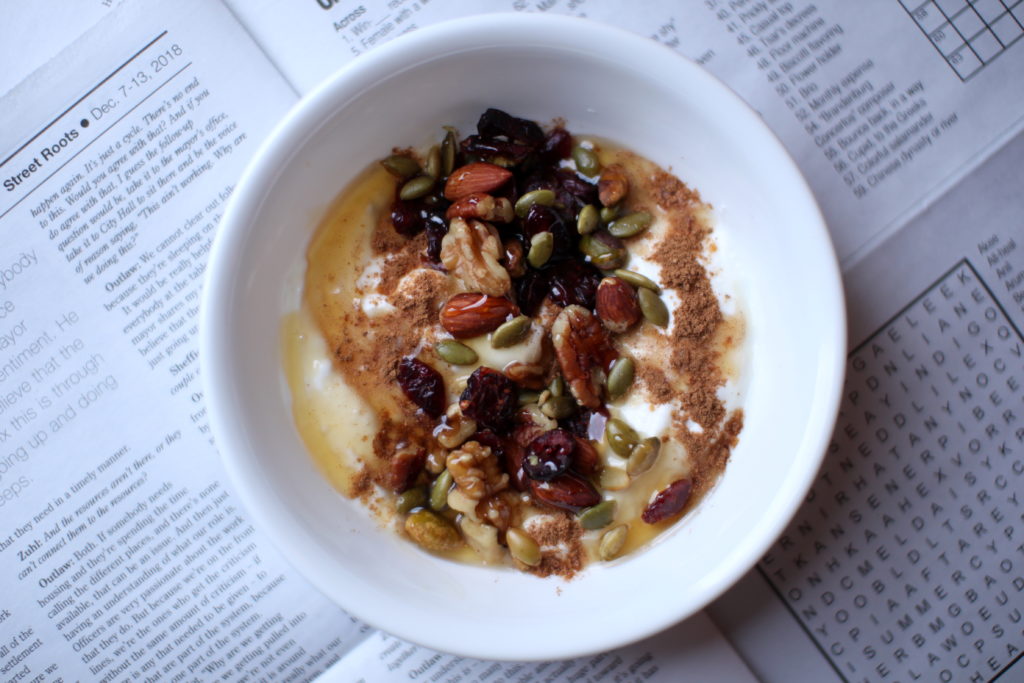 Spiced Greek Yogurt
This bowl will keep you full and satisfy your sweet tooth.

Ingredients
¾

cup

plain Greek yogurt

¼

cup

nuts and dried fruit of your choosing, roughly chopped

½

teaspoon

pumpkin pie spice (see notes)

1

teaspoon

honey or maple syrup
Instructions
Place yogurt in bowl and sprinkle with nuts, berries, spices and honey or syrup. Stir and enjoy!
Notes
If you don't have pumpkin pie spice, you can use ¼ teaspoon cinnamon, plus dashes of ginger, nutmeg, cardamom, allspice and/or cloves to taste.
Looking for more breakfast ideas? Try my Pumpkin Pie Oatmeal or my Rhubarb-Blood Orange Oatmeal.