My first omelet felt like a big achievement. I had graduated from quesadillas and grilled cheese and scrambled eggs to something that required more technique. (My extreme love for all things cheesy remains, evident in this ham and Swiss omelet.)
My dad belonged to the folded omelet camp, à la Jamie Oliver. So that's how I made my omelets for years, until I discovered a different technique, which I think works much better. I cannot for the life of me find that original recipe, so I'll try to explain it here.
The challenge with omelettes is that the outsides cook faster than the insides, and the last thing you want is a burnt exterior and a runny middle. Many techniques address this issue, but my favorite involves using a flexible spatula to lift up an edge of the omelet when the eggs are just set and letting the runny middle flow under the set omelet. Repeat this process around the pan, lifting up the set edges until there is no more runny middle. Then fill, fold both sides over the filling and flip. I feel like it makes for a prettier omelet, and it's just plain fun.
And now that we're on week four (Is it four? I've lost track.) of the coronavirus quarantine, we all have a little extra time on our hands. This is the perfect time to try something new. This ham and Swiss omelet is a nice treat. It has mustard and garlic and a bit of dairy in the eggs for richness. And who can say no to salty ham and melty cheese?
It's good but simple, and you can turn it into a full brunch with hash browns and a cocktail, like my blood orange gin and tonic. It's a four-egg omelet, so it will serve two if you don't mind cutting it in half to save yourself the extra work. I have also been known to eat one of these to myself when I'm really hungry.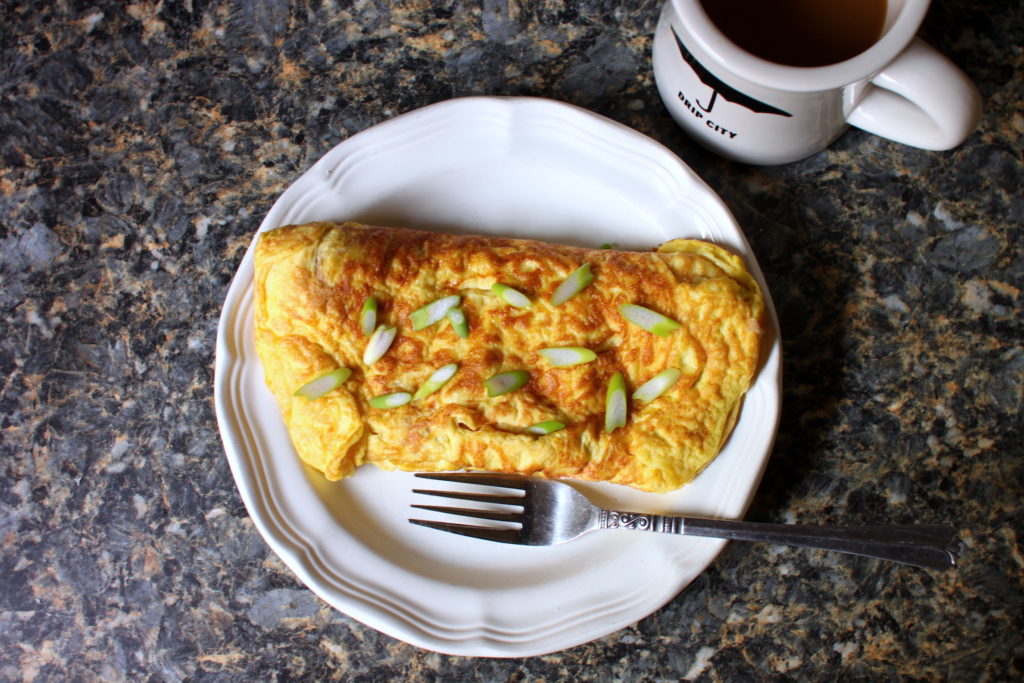 Ham and Swiss Omelet
A simple omelet with mustard, garlic and cream to complement the meat and cheese.
Ingredients
1

teaspoon

unsalted butter

4

eggs

1

tablespoon

half and half or ½ tablespoon heavy cream

1

tablespoon

dijon mustard

Pinch

of each salt and pepper (see note)

1

ounce

cooked ham, chopped

⅓

cup

Swiss or Emmental cheese, grated

Green onion or parsley for garnish
Instructions
In medium bowl, whisk eggs, half-and-half, mustard, salt and pepper until well blended.

Melt butter in an 8-inch non-stick saute pan over medium heat. Extra points for brown butter.

Pour egg mixture into hot pan and wait about 1 minute, until you see the edges just starting to firm up.

Now, insert a very bendy plastic spatula under an edge of the omelet, lift it up and tip the pan to allow the runny egg on top to flow under the cooked portion. Repeat this all along the sides of your omelet until all the egg is set.

Reduce heat to medium-low. Fill your omelet by placing the ham and cheese in a thick line down the middle of the eggs. Carefully fold the sides of your omelet to cover the filling, and press with your spatula for about 20 seconds, until the omelet stays together by itself.

Now, carefully flip your omelet so the pan-side is up and cover, cooking for 2 minutes.

Garnish and serve, cutting the omelet in half if serving two.
Notes
If you care about this sort of thing, you can use white pepper instead of black pepper to avoid seeing black flecks in your omelet.
Looking for more brunch at home recipes? Try my crab dip omelette, chorizo breakfast tacos or my breakfast bagel sandwiches.