Potato salad is one of my favorite things to eat, hands down. Potato salad's strength lies in its extreme adaptability and versatility. It can be creamy or bright, rich or zesty. Or all of the above, like this bacon shallot potato salad.
This potato salad is inspired by a salad I got from Laurelhurst Market, a local steakhouse and butcher shop. They've been selling butcher boxes during the pandemic, and the box we ordered back in June included a pint of their potato salad. I grew up on very eggy potato salads, but this eggless version allowed potatoes and aromatics to really shine. It was delicious, and inspired me to develop this copycat recipe.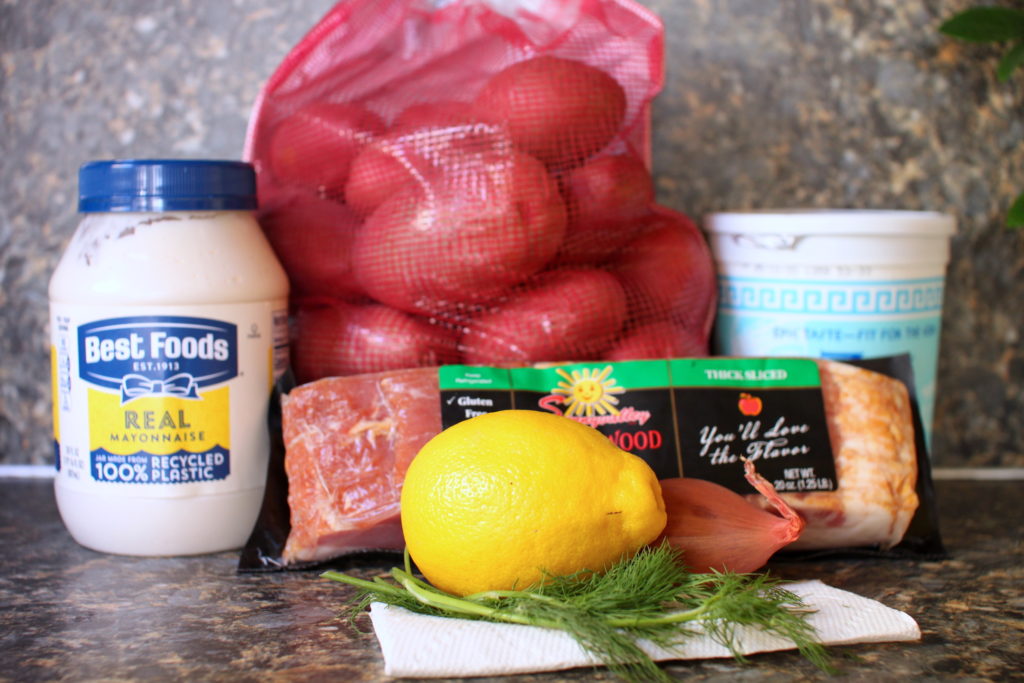 Shallots are the real star in this recipe. The subtle sharpness accentuates the earthiness of the red potatoes, and complements the lemon zest and dill. For a lighter texture, I use a combination of Greek yogurt and mayo. The yogurt adds a nice tang, and the mayo provides richness. Laurelhurst Market's potato salad did not have bacon, but I added it to give the salad a little more heft. Feel free to leave out the bacon if you're serving vegetarians or if you don't feel like messing with it.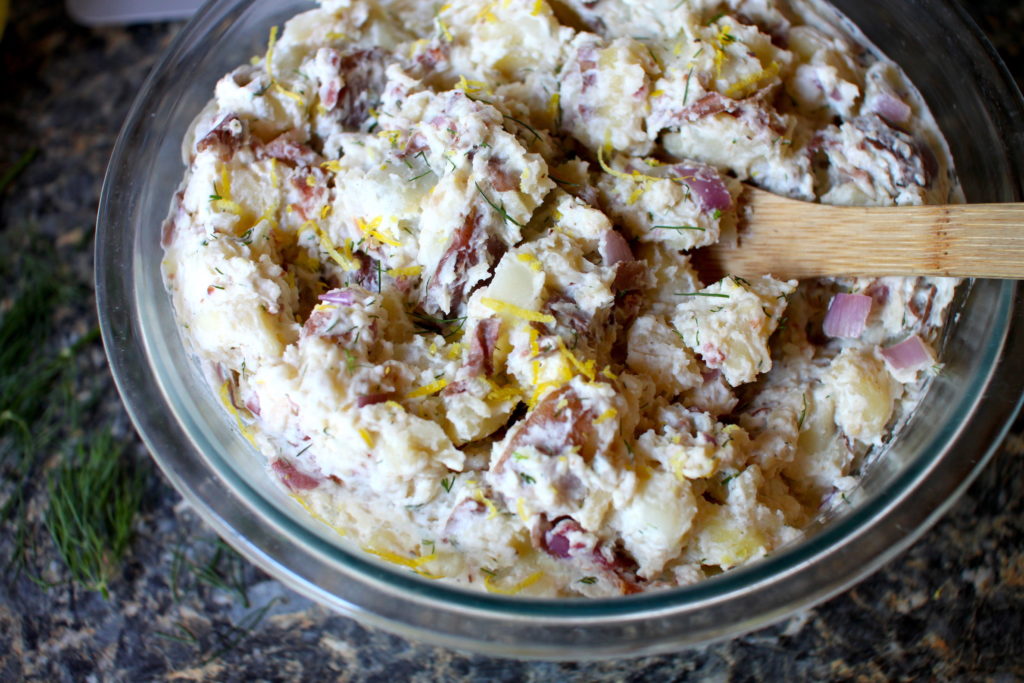 Bacon Shallot Potato Salad
This eggless potato salad is the perfect zingy side for your late summer cookout.
Ingredients
3

pounds

red potatoes, scrubbed and cut into bite-size pieces

2

teaspoons

salt, divided

½

pound

bacon

⅓

cup

shallot, diced

1¼

cups

plain Greek yogurt (not nonfat)

½

cup

mayonnaise

2

tablespoons

Dijon mustard

1

tablespoon

fresh dill, chopped fine

1½

teaspoons

fresh lemon zest

1

teaspoon

salt

½

teaspoon

pepper

½

teaspoon

garlic powder
Instructions
Place potatoes and 1 teaspoon salt in large pot and cover with cool water. Bring to boil over high heat and cook until potatoes are fork-tender. Drain potatoes into colander and set aside.

Meanwhile, cook the bacon, either 2-3 minutes per side in a pan over medium-high, working in batches, or for 10-15 minutes in a 425º oven on a foil-lined baking sheet until crispy. Place on paper towel-lined plate to cool. Once cool, roughly chop.

In large serving bowl, mix yogurt, mayonnaise, mustard, dill, lemon and spices, including remaining teaspoon salt. Add shallot and bacon, then taste and add more salt or pepper if desired.

Add potatoes and stir to coat. Taste again and adjust seasonings if needed. This is best made a day ahead, to give the flavors time to marry.
Serve this bacon shallot potato salad with a cheeseburger and a fun play on the classic Tom Collins cocktail (it involves White Claw).