If you have any sort of dietary restriction, you know what a bummer it is to walk into a cafe, restaurant or minute mart and not be able to find something you can eat. I went gluten-free about five years ago to address skin problems, and it's worked miracles for my complexion. But I missed my occasional fast food run, especially breakfast sandwiches. So when Starbucks debuted their sous-vide egg bites in 2017, I was delighted. They were rich, fluffy and delicious. I always felt like I could eat four.
At home, I usually stick with simple fried eggs or the occasional omelette. But I recently got a craving for egg bites and didn't feel like paying five bucks for two of them. So I adapted this healthier version from My Crazy Good Life. The key to the lush sous-vide texture without a fancy machine is placing a pan of water in the oven under your eggs. It's simple and works like a charm.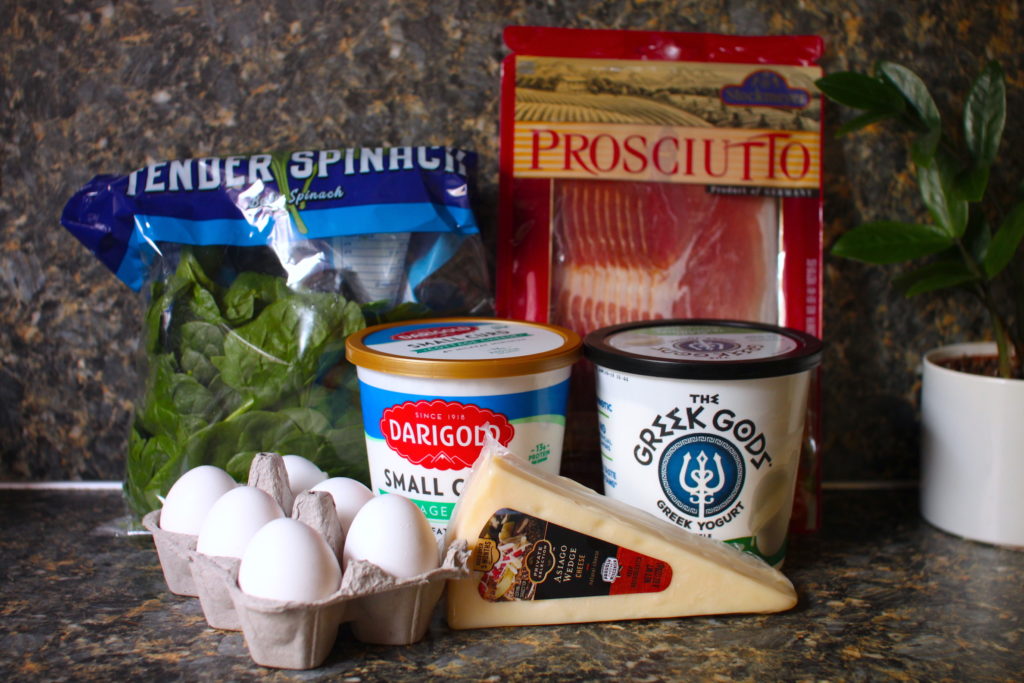 I wanted my egg bites to be self-contained, and what vehicle is better than prosciutto? It's the perfect little cup. I added spinach for "health," and a bump of paprika and garlic powder to boost the flavor. I like asagio because it melts well and complements the prosciutto, but you could use any hard cheese that melts well. You may want to make a double batch of these cheesy prosciutto egg bites, because they are supremely addictive and go fast.
How to make cheesy prosciutto egg bites
Jump to Recipe
This is the perfect breakfast to make on a weekend or a day off. It's not very complicated, but does require a bit of time.
First, preheat your oven to 350ºF.
Then, start your spinach.
Throw a few handfuls of fresh spinach into a medium saucepan and heat over medium. Give it an occasional stir and cook until all the spinach wilts. It should reduce in volume dramatically. When done, remove the pan from heat and set aside to cool.
Meanwhile, prep your pan.
Spray a muffin tin with nonstick spray or grease it with butter. Then, carefully peel strips of prosciutto away from any packaging and cut them into squares (about four inches square). I like to use kitchen scissors for this. Drape each square over a muffin cup, then press the prosciutto down into the cups, pressing out any air bubbles near the bottom.
Now make the egg mixture.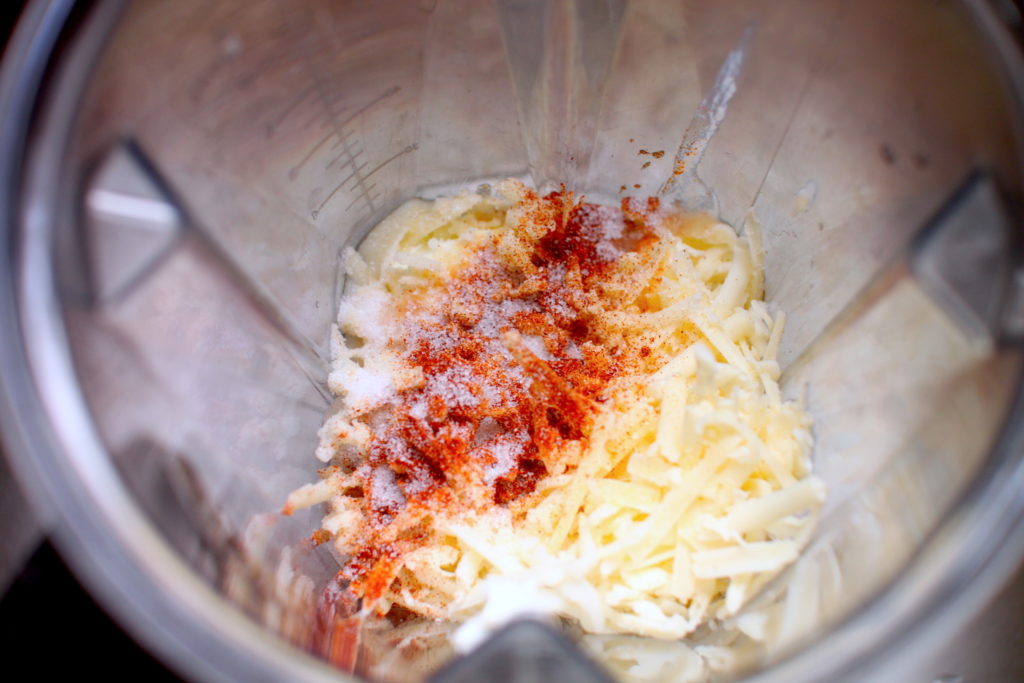 In a blender, combine 6 eggs, 3/4 cup each of plain Greek yogurt and cottage cheese, 1 cup of shredded cheese, 3/4 teaspoon salt and 1/4 teaspoon each of garlic powder and paprika. Blend until ingredients are well incorporated and relatively smooth. The consistency should be pretty thin.
Squeeze that spinach.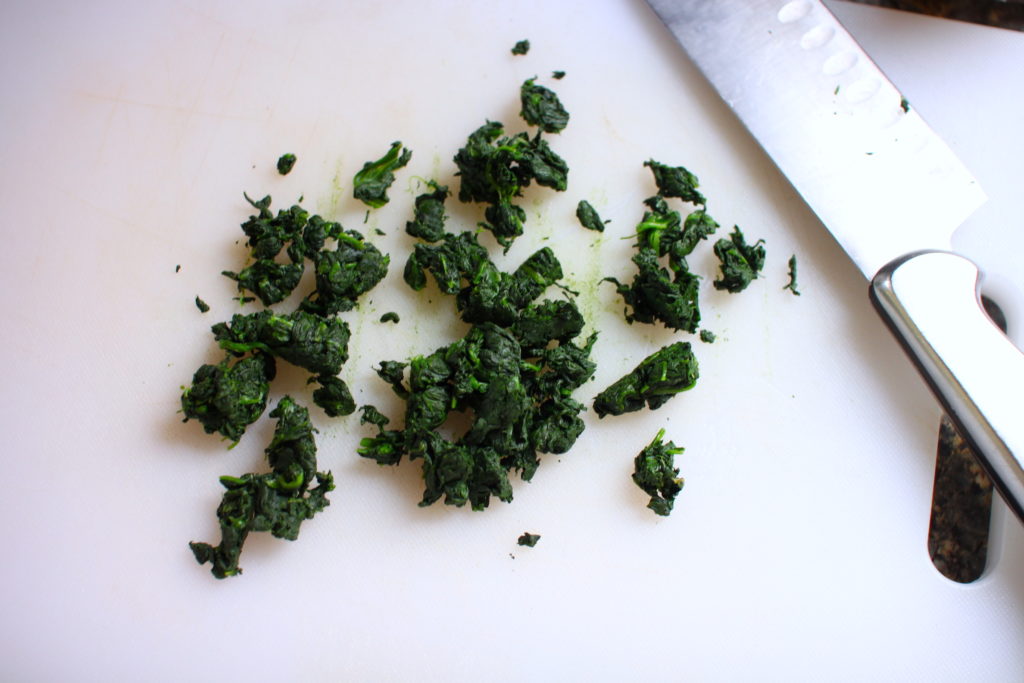 Once your spinach has cooled, squeeze remaining water out of the greens (I just use my hands) and chop them well. You should have about 1/4 cup of wilted spinach. Throw the greens in the blender and stir gently to incorporate. I don't blend the spinach because I prefer to have bits of spinach rather than green egg bites. (You can always skip the spinach or use frozen spinach if you don't feel like wilting and squeezing.)
Carefully pour mixture into prosciutto cups.
The cups should be just full. Place the muffin tin on the upper-middle oven rack, above a pan filled with a couple inches of water. The steam will give the eggs that light creamy texture.
Cook the cheesy prosciutto egg bites about 20 minutes.
They should puff up and start to turn golden brown on top. If you prefer your egg bites to be more set in the center, bake for another 5 minutes. Place muffin tin on a cooling rack and let sit 5 minutes before carefully extracting them with a fork. Enjoy!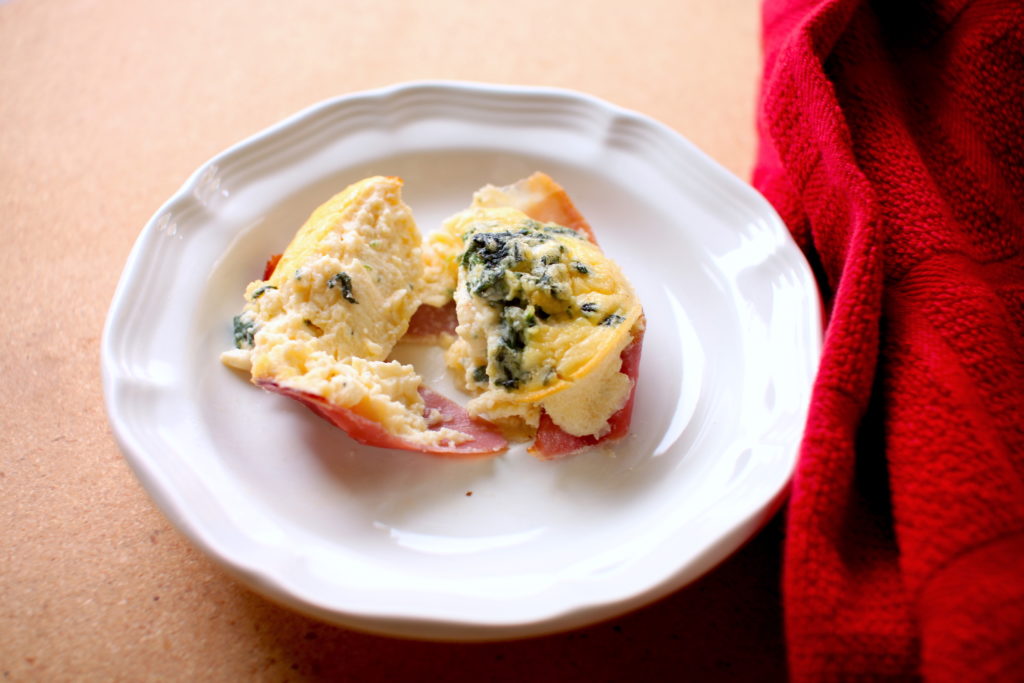 Cheesy Prosciutto Egg Bites
This take on Starbucks sous-vide egg bites will fulfill your gluten-free breakfast cravings without hurting your wallet.
Ingredients
4

cups

about 5 ounces fresh spinach or ¼ cup frozen spinach

6

slices

prosciutto, cut in half (roughly into 4-inch squares)

6

eggs

1

cup

asiago or gruyere, shredded

¾

cups

full-fat cottage cheese

¾

cups

plain full-fat Greek yogurt

¾

teaspoon

salt

¼

teaspoon

garlic powder

¼

teaspoon

paprika
Instructions
Preheat oven to 350ºF and grease a muffin pan.

If using fresh spinach, heat greens in medium saucepan over medium heat, stirring occasionally until wilted. Set aside to cool. If using frozen spinach, cook over medium just enough to defrost.

Meanwhile, carefully line each muffin cup with a prosciutto square, pressing the prosciutto all the way down into each cup.

Combine remaining ingredients in a blender and mix until relatively smooth.

Using your hands, squeeze remaining water out of cooled spinach and roughly chop. If using fresh spinach, it should have reduced to about ¼ cup. Throw the spinach into the mixture in the blender and stir to incorporate (don't blend).

Pour the mixture into the prepared prosciutto cups. Each cup should be just barely filled.

Place in middle rack of oven. To prevent the eggs from drying out and to lend them a nice fluffy texture, pour a couple of inches of water into a 13×9-inch pan and place it on the rack under the eggs. Bake for 20 minutes, or until the eggs fluff up, tops are just beginning to brown and visible prosciutto is nice and crispy.

Let eggs cool for about 10 minutes before carefully lifting out of pan with a fork or small spatula.
Looking for more breakfast recipes that scratch that fast food itch? Try my breakfast bagel sandwiches or my chorizo breakfast tacos.